In most American cities, the trolley disappeared soon after World War 2 (known in Europe as "that episode when the Americans saved our asses again"). The USA hasn't declared war since then but as long as
Congress gives authorization
we're not breaking any rules. Jump forward a few short lives later and a virus called "the 80's" infects Dallas. After some jackhammerin' and feasabilitystudyin' the
McKinney Avenue Trolley Authority
was born.
Read all about it.
Below, some pictures of the latest in people movers.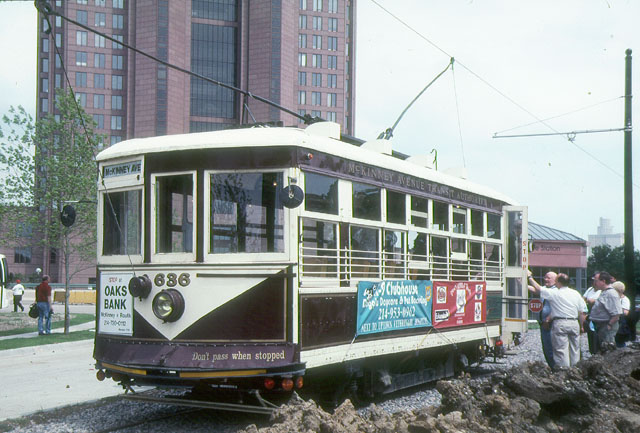 This is "Birney" a beautifully restored single-truck steetcar. Boarding the car are members of the
Motorbus Society
. In the background is City Place standing above a lonely, outdated DART Rail Station. Ahhhh, spring in Dallas.... cool breezes, shirt sleeve weather and the opportunity to ride a streetcar to the
DMA
.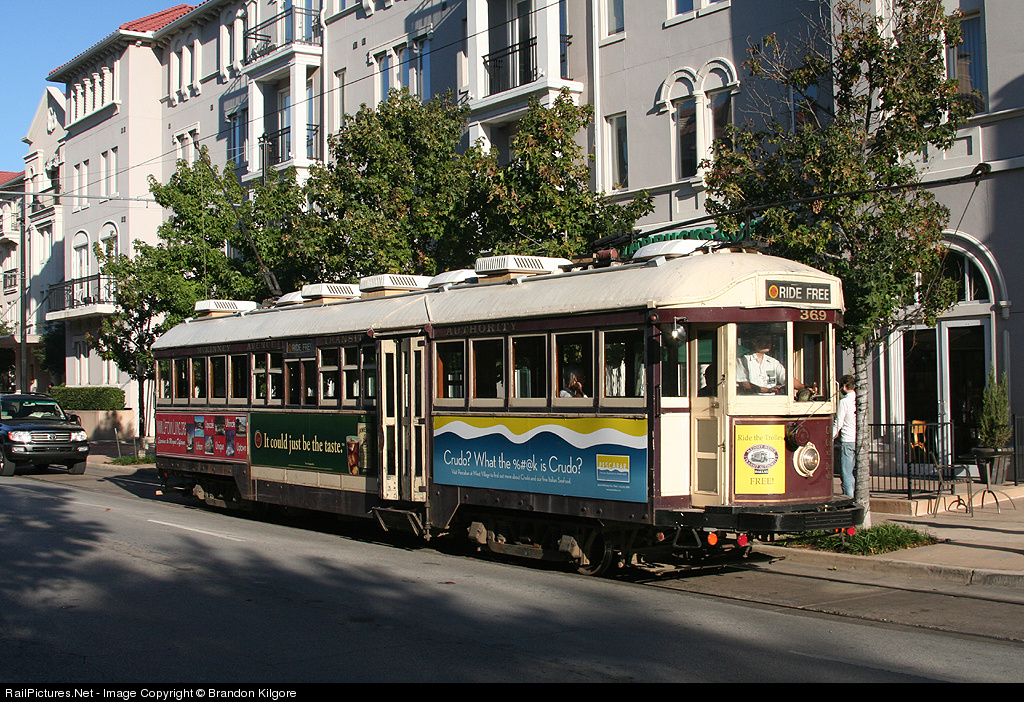 This picture is copyrighted by
Brandon Kilgore
. Hope you don't mind Brandon, I just borrowed your pic of Matilda to show how some of MATA's streetcars have the latest innovation in creature comfort, cooled air, very much like the
Texas Theatre, the first theater in Dallas with air conditioning
.
MATA rides are free with the exception of private parties.
Residents of Jacksonville, Florida adore the MATA.
They've devoted a web page to explaining how
"the McKinney Avenue Transit Authority is a great model to follow. The 3.6 mile line was installed in late 1980s with funding from private developers and donations."
If you're studying city planning be sure to look at the pictures - textbook examples of the term 'mixed-use development'.
This is a map of the MATA route.
Many distressed and blighted businesses along this route desperately need a bit of $4.9 million to keep from having to close their doors. Things are tough all over.
This blogger had a lot of nice things to say about his/her visit to Dallas, DART and the MATA
.
(no hard feelings about the WW2 comment, ok?)
I hope they were being sarcastic when they captioned this photo with the phrase
"a touch of authentic wild west."
Sarcasm sometimes eludes me.